Browse my previous commission keyboards and find more information on how you can order a custom keyboard!
More information on some of these keyboards, check here!
Pricing
All prices include VAT 24% (ALV).
Keyboard build commissions
Are you interested in a custom keyboard? Contact me for more information. I can help you with the whole process. The whole process can be really tricky and all the parts may seem a little confusing. Here is an amazing video from TaehaTypes that really helps you with where to start:
I will need to know these kinds of things:
Your price range
Which switches you'd like
How big the keyboard should be (for example a full-sized keyboard or a 60% one)
What kind of keycaps you'd like
You can always reference my earlier builds or someone else's. I will give you lots of choices depending of availability of parts as well.
Important
I only provide you with assembly service. I hold only a couple of parts in my inventory, but otherwise all the parts will be ordered. The parts should be ordered by you, so I don't need to add the 24% VAT (ALV) to prices and you can get away with a cheaper keyboard and I don't have to take the risk of buying unnecessary parts. This is a little bit inconvenient, but it is still a winwin situation. I can help you with the whole process and even with Finnish Customs process, if it ever comes to that.
Keyboard assembly service
| Keyboard size | Price | With switch lubing* |
| --- | --- | --- |
| Macropads / numpads | 25 € | 35€ |
| < 80% | 50 € | 85€ |
| > 80% | 60 € | 120 € |
*Switch lube included
USB-cables
Note that I don't keep loads of sleeving options in stock. Other cable supplies I try to keep. Contact me for coloring options
These cables are custom made and support USB 2.0 standard.
!!! I don't recommend using these cables for anything else than mechanical keyboards !!!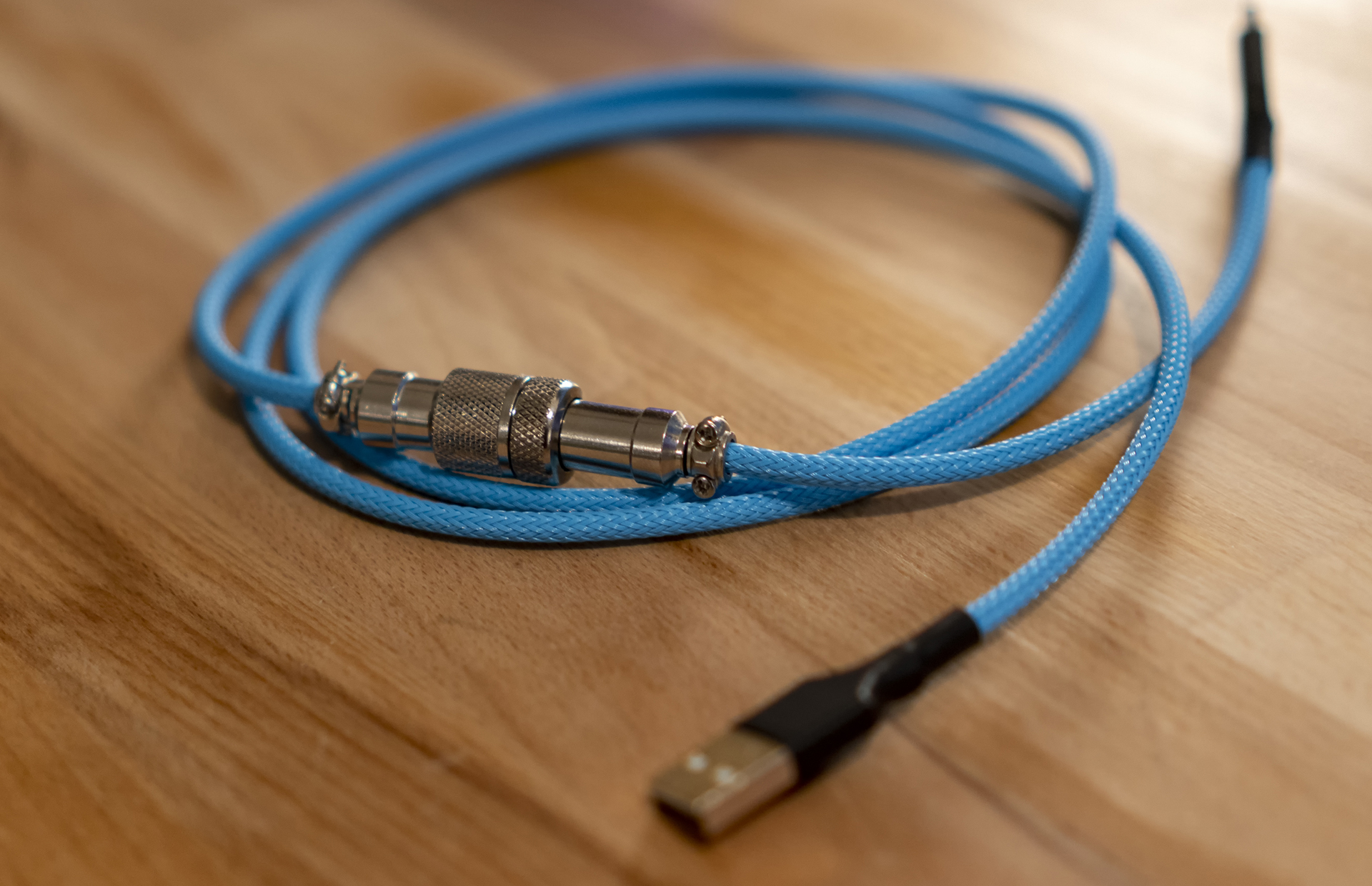 Ready-made cables
| Cable length | Price | With aviator connector |
| --- | --- | --- |
| 1,5 meters | 20 € | 30 € |
| 2,0 meters | 25 € | 35 € |
DIY kits
| Cable length | Price | With aviator connector |
| --- | --- | --- |
| 1,5 meters | 15 € | 20 € |
| 2,0 meters | 17 € | 22 € |
DIY-kit includes the following items:
Cable
USB-connectors
Heatshrink
Sleeve
Aviator connector (if ordered)
Where does the price come from?
The amount of time it takes to assembly a keyboard varies on many things:
Keyboard size
Soldering LEDs
Amount of stabilizers
Switch lubing
Building a 60 % keyboard (for example, DZ60) can take up to 4 hours to finish assembling. If the switches are lubed, the time will be almost double of that. Every single switch has to be opened. The lube is applied by brushing with a small brush to an opened switch. Bigger keyboards require more materials - solder, lube, time and coffee (for me). That's why the price goes up for fullsized or bigger keyboards.
What is included in the assembly service?
Helping you choose the correct keyboard, layout and switches
Soldering
Stabilizer modifications (band-aid, clipping and lubing)
Firmware customization and flashing
If the keyboard stops working due to my error, I will fix it for free! Liquid and other self-caused damage I can try to help you with, but can't promise a working keyboard at that point :(