** GIVEAWAY IS OVER **
I built my first custom mechanical keyboard 19th of August, 2019. never would I have thought that I'd ever build 50 of them. It's been crazy and feels unbelievable. The 50th keyboard is going to be a special one. I am giving it away in my Twitch channel!
The 50th keyboard
I decided to go with a SixtyFive keyboard by Mode Designs. The SixtyFive keyboard (also known as Mode65) is a highly configurable keyboard with a 65% layout.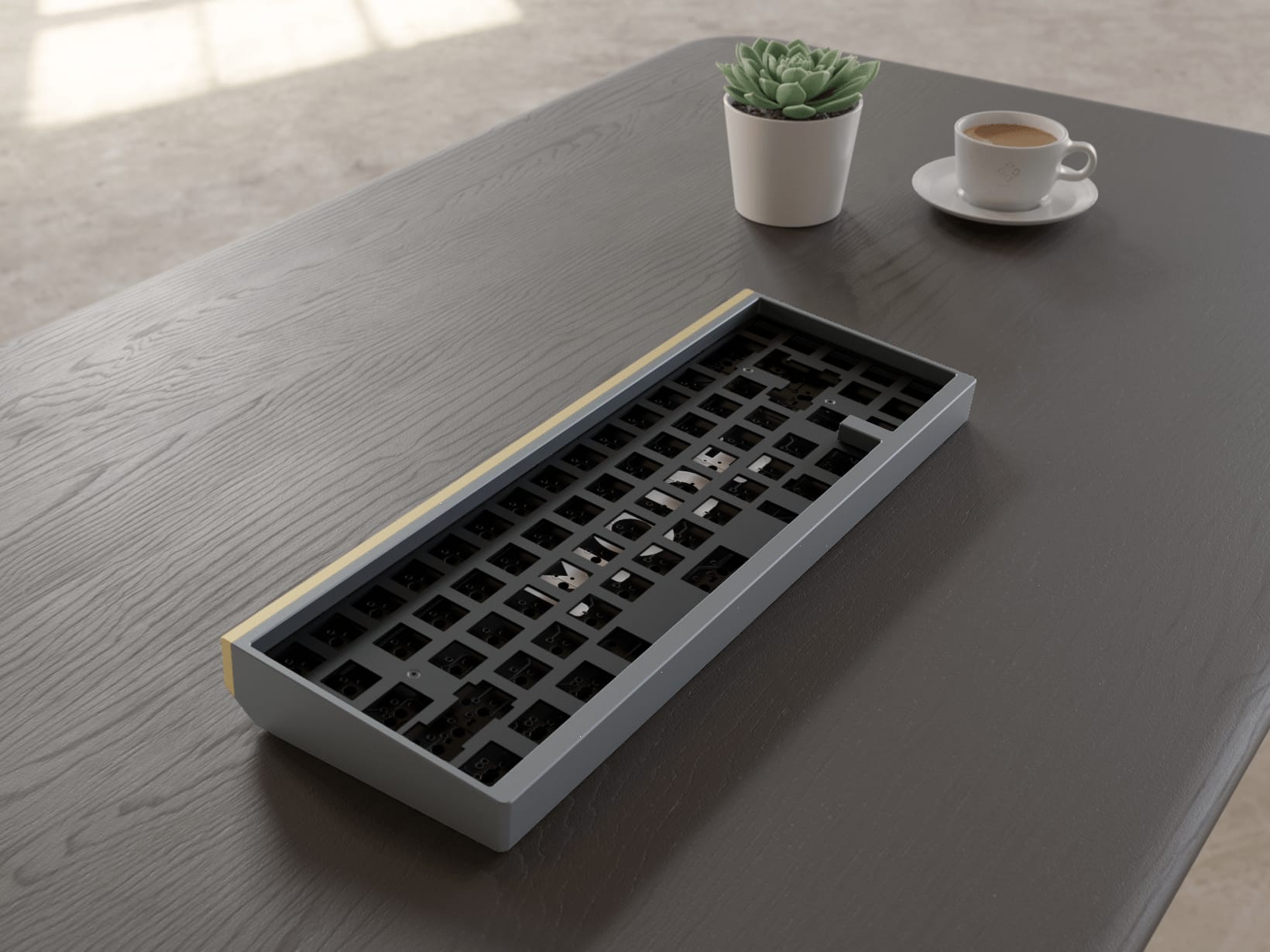 The giveaway keyboard has the following configuration:
| Name | Description |
| --- | --- |
| Top | Blue-Grey |
| Bottom | Blue-Grey |
| Backpiece | Brass |
| Plate | Black Aluminum / ISO |
| Plate Foam | No |
| PCB | ISO Hotswap |
| Silicone Base | None |
| Plate Caps | Black |
| Feet | Black |
You should also be able to see the exact configuration from this link: Mode65
Keycaps
Keycaps are douleshot PBT keycaps from Tai-Hao. They have nordic layout, so you can enjoy your Ä, Ö, Å responsibly!
Since they are doubleshot keycaps, they should be wear-resistant as well. These keycaps are affordable, but still of good quality!
Switches & stabilizers
This was a hard choice to make. There are two options for switches:
Everyone has their own preference for the switches, but having a huge amount of available choices would have been absurdly hard and difficult to manage. Both of these choices are really good switches. Some consider these the best of their own categories. The SixtyFive is a hotswap keyboard, so the winner will be able to swap the switches to their own preference, if these are not up to the winner's standards 😎
Switches will be lubed by me, of course.
Stabilizers are Durock v2 stabilizers. Color depends on the switches; either smoke grey or clear/transparent ones.
Rules
The following rules apply for this giveway:
Must live in Finland
Must be following me on Twitch
Has to use 5000 channel points to participate
Has to fill the form that I will give in Twitch/Discord DM
Only 1 participation per person

Filling more than 1 form won't have any effect, I will be checking them manually

If you try to bamboozle me, your entry will be denied
Q: Why 5000 channel points requirement?
This is to make sure that someone, who actually has followed me a long time really wins this. I probably wouldn't be at this point without the constant support and amazing discussion I've had during my keyboard build streams on Twitch. This keyboard's value is pretty high (500€+), so I really, really want someone who I know to win this. #based
Also, for the most active people on my stream chat, I will be giving the spot on the giveaway without 5k channel point requirement. Thanks for supporting me ♥
How to participate?
Go to https://twitch.tv/hekeke and spend the 5k channel points reward thingy.
The giveaway will be held before christmas, no idea on when exactly, but stay tuned 👀
Also huge shoutout to Linda for sponsoring big part of this keyboard! Otherwise you'd had to settle for a lesser keeb !